Tex-Mex Sweetpotato Beef Skillet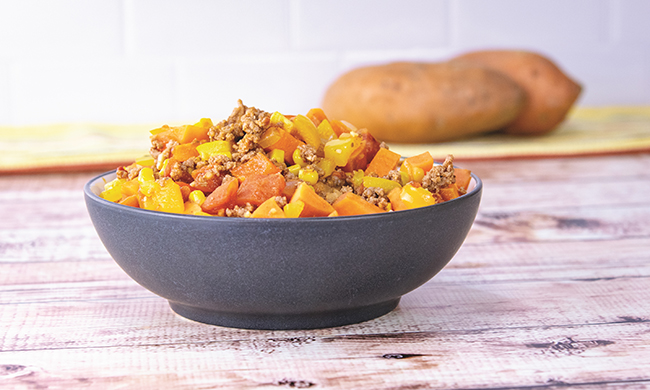 Tex-Mex Sweetpotato Beef Skillet
For busy families, it's hard to beat a one-skillet dish that cuts down on cleanup without sacrificing flavor. Especially during the hectic fall season when cool, crisp days call for comforting food, you can warm up the evening with a hot Tex-Mex meal that's sure to occupy a permanent spot on the menu. (Family Features)
Start with a versatile comfort food staple like sweetpotatoes, which provide the body for this filling Tex-Mex Sweetpotato Beef Skillet. As a versatile veggie that's easy to add to a variety of recipes for enhanced flavor and nutrition content, they can become a pantry must in your home for simple and elevated recipes alike. To maximize their already-lengthy shelf life (up to 4 weeks), simply store in a cool, dry, well-ventilated area away from heat sources – never in the refrigerator, which can cause "chill damage."
Because they can be cooked and prepared in a skillet, baked, grilled, slow-cooked, microwaved, air-fried and more, they provide a crowd favorite that's a breeze to use in the kitchen. In this delicious dish, they're combined with peppers, onions, ground beef, broth, tomatoes, corn, Southwest seasoning and more to keep chilly days at bay.
Consider this fun fact to share with your loved ones at the dinner table: The one-word spelling of "sweetpotato" was officially adopted by the National Sweetpotato Collaborators in 1989 to avoid confusion with equally unique and distinctive potatoes, which are also grown and marketed commercially in the United States.
Find more comfort food favorites by visiting ncsweetpotatoes.com.
Watch video to see how to make this recipe!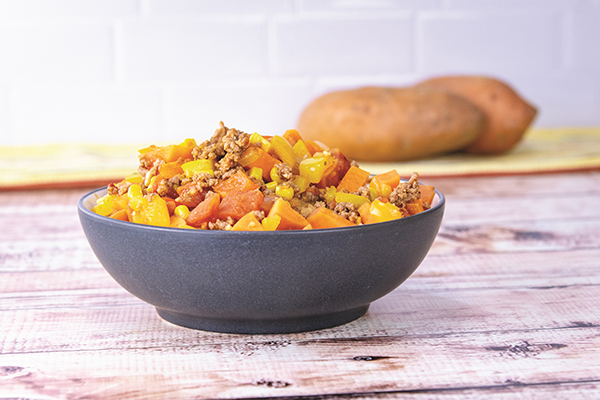 Tex-Mex Sweetpotato Beef Skillet
Recipe courtesy of Meredith Bernard of "This Farm Wife" on behalf of the North Carolina Sweetpotato Commission
Servings: 6
2          medium sweetpotatoes
3          bell peppers (combination of red, yellow and orange)
1          small onion
2          tablespoons olive oil or butter, divided
2          garlic cloves, minced
1          pound lean ground beef
1/2       cup beef broth
1          can diced tomatoes
8          ounces tomato sauce
1          can Mexi-corn or Southwest corn
1          tablespoon Southwest seasoning
salt, to taste
pepper, to taste
Rinse and scrub sweetpotatoes to clean. Chop into 1/2-inch cubes. Dice bell pepper and onion. Set aside.
In skillet over medium heat, heat 1 tablespoon oil or butter.
Add garlic and saute until fragrant, being careful not to burn.
Add ground beef, breaking apart and stirring until cooked through, 5-7 minutes. Remove garlic and beef to covered bowl or plate; set aside.
In same skillet, add remaining oil or butter. Saute peppers, onion and sweetpotatoes until slightly tender.
Pour in broth, diced tomatoes and tomato sauce; cover and simmer 12-15 minutes.
Stir in cooked beef and corn. Cook until liquid reduces and mixture thickens slightly. Add seasoning and salt and pepper, to taste.

SOURCE:
North Carolina Sweetpotato Commission
We are sorry that this post was not useful for you!
Let us improve this post!
Tell us how we can improve this post?