Tricolor Grape Pizza with Goat Cheese and Thyme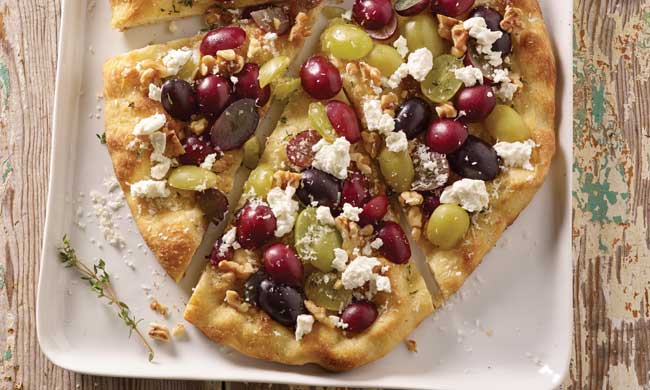 Tricolor Grape Pizza with Goat Cheese and Thyme – Amaze Guests with Great Grape Appetizers. Along with the delicious food, gift giving and cheer of the holiday season, getting together with friends and family is also cherished. 
Find more tasty appetizers, meals, desserts and more at grapesfromcalifornia.com.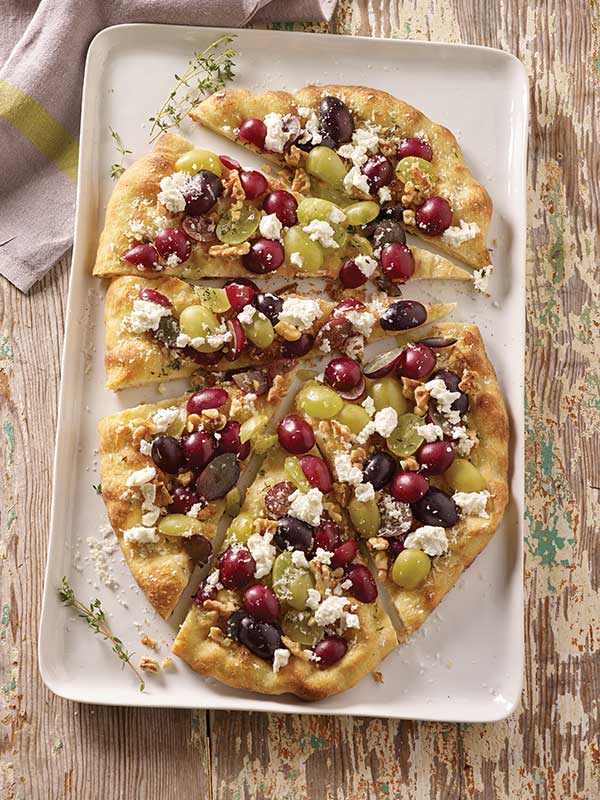 Tricolor Grape Pizza with Goat Cheese and Thyme
Prep time: 20 minutes
Cook time: 10 minutes
Servings: 6
1 pound prepared pizza dough
flour
2 1/2 tablespoons extra-virgin olive oil
2 cups halved green, red and black California grapes
2 tablespoons fresh thyme leaves
1/4 cup coarsely chopped walnuts
2 ounces fresh goat cheese, crumbled
2 tablespoons freshly grated Parmesan cheese
freshly ground pepper, to taste
Position rack in bottom of oven and place inverted baking sheet on top of rack; heat oven to 500 F.
On lightly floured surface, press pizza dough into 10-inch round circle and cover with towel while preparing toppings.
Sprinkle large baking sheet lightly with flour. Stretch pizza dough into oval, about 14-by-10 inches, and place on sheet. Drizzle with oil. Sprinkle with grapes, thyme and walnuts. Place baking sheet on top of sheet already in oven and bake until crust is bubbling and golden, 8-10 minutes.
Remove pizza from oven. Sprinkle with goat cheese and Parmesan. Season with pepper, to taste. Transfer pizza to board, cut into pieces and serve warm.
Nutritional analysis per serving: 350 calories; 10 g protein; 47 g carbohydrates; 14 g fat (36% calories from fat); 2.5 g saturated fat (6% calories from saturated fat); 5 mg cholesterol; 580 mg sodium; 1 g fiber.

SOURCE:
California Table Grape Commission
We are sorry that this post was not useful for you!
Let us improve this post!
Tell us how we can improve this post?