Peanut Butter Ice Cream Sandwiches
Peanut Butter Ice Cream Sandwiches – When the sun is shining and you need to beat the heat, cool down with a little shade and a nutty, frozen treat. This kid-favorite is a childhood classic you can customize with favorite toppings, too. (Family Features)
Made with the protein power of peanuts, these Peanut Butter Ice Cream Sandwiches are easy to prepare on hot days that call for a cold dessert. Just bake chocolate chip cookies, spread them with peanut butter, add a scoop of ice cream and roll in chopped peanuts, chocolate chips or toasted coconut for a sweet bite of perfection.
With approximately 4,000 active peanut farmers, it's likely your peanuts – often referred to as "nutrition in a nutshell" – came from Georgia, which produces 52% of the country's supply.
Visit GAPeanuts.com for more delicious dessert ideas.
Watch video to see how to make this recipe!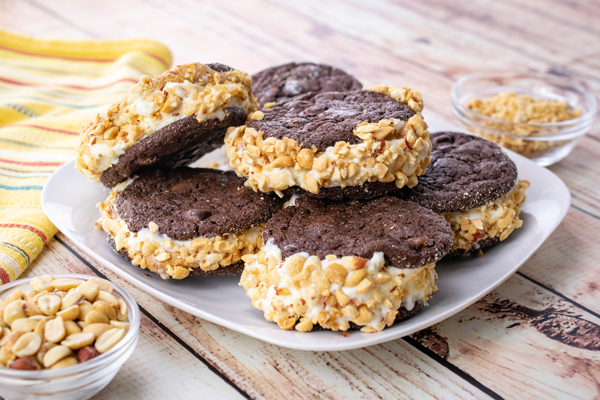 Peanut Butter Ice Cream Sandwiches
Recipe courtesy of Peanut Butter Lovers and the Georgia Peanut Commission
Yield: 12
24        fresh baked chocolate chip cookies (about 3 inches in diameter), cooled
1 1/2    cups creamy or crunchy peanut butter
1 1/2    quarts vanilla ice cream, slightly softened
chopped peanuts, for topping (optional)
mini chocolate chips, for topping (optional)
toasted coconut, for topping (optional)
On 12 cookies, top sides down, spread layer of peanut butter. Add one scoop of ice cream to each. Create sandwiches by topping with remaining cookies.
Roll edges of ice cream in chopped peanuts, mini chocolate chips or toasted coconut, if desired. Place on baking sheet in freezer and freeze until firm.
Serve slightly frozen.


SOURCE:
Georgia Peanut Commission
We are sorry that this post was not useful for you!
Let us improve this post!
Tell us how we can improve this post?