Homemade Delicious Creative Chicken Sandwich
The history of the first homemade chicken sandwich in the US is somewhat unclear, as different accounts attribute the invention of the chicken sandwich to different individuals and locations. However, there are a few stories that are often cited as the origin of this popular sandwich.
One popular story dates back to the early 20th century and involves a housewife named Clara H. Fulghum from Kansas City, Missouri. According to this story, in 1936, Fulghum had some leftover fried chicken from dinner and decided to make a sandwich with it for her husband's lunch the next day. She placed the chicken between two slices of bread and added some mayonnaise, and her husband loved it so much that he shared it with his coworkers, who also raved about it. Soon, the chicken sandwich became a popular item at local lunch counters and restaurants.
Another story involves a restaurant chain called Chick-fil-A, which claims to have invented the chicken sandwich in the 1940s. According to this story, the founder of Chick-fil-A, Truett Cathy, was looking for a way to offer a new item on his menu that would appeal to customers who were looking for a lighter, healthier option. He came up with the idea of serving a boneless chicken breast on a buttered bun, and the Chick-fil-A Chicken Sandwich was born. The sandwich quickly became a customer favorite and helped propel Chick-fil-A to nationwide success.
Regardless of its exact origin, the chicken sandwich has become an iconic American food item, with countless variations and interpretations available at restaurants and homes across the country.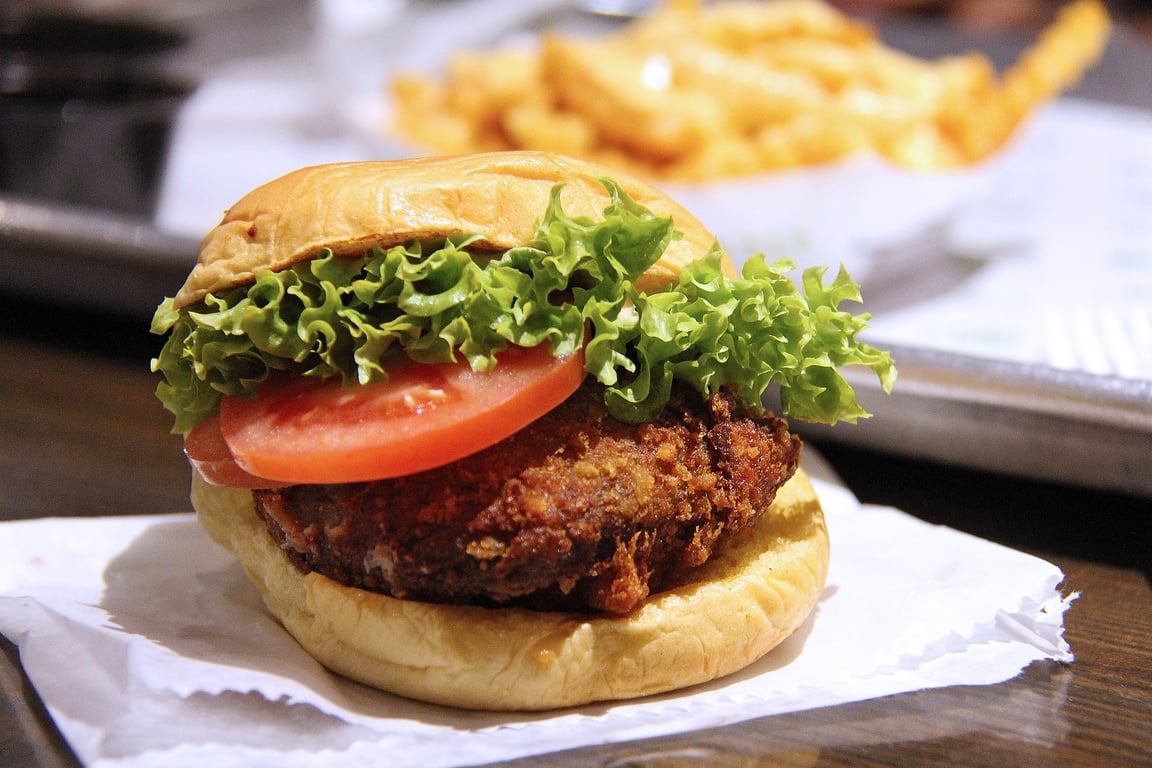 Homemade Delicious and Creative Chicken Sandwich recipe
Ingredients:
2 boneless, skinless chicken breasts
1/2 cup buttermilk
1/2 tsp garlic powder
1/2 tsp onion powder
1/2 tsp paprika
1/2 tsp salt
1/4 tsp black pepper
1 cup all-purpose flour
1/2 tsp garlic powder
1/2 tsp onion powder
1/2 tsp paprika
1/2 tsp salt
1/4 tsp black pepper
1/4 tsp cayenne pepper
2 eggs, beaten
1 cup panko bread crumbs
1/4 cup grated Parmesan cheese
1/4 cup mayonnaise
2 tbsp honey
2 tbsp hot sauce
4 hamburger buns
Lettuce leaves
Sliced tomato
Sliced red onion
Pickles
Instructions:
Preheat your oven to 400°F.
In a bowl, whisk together the buttermilk, garlic powder, onion powder, paprika, salt, and black pepper. Add the chicken breasts and toss to coat. Let marinate for at least 30 minutes, or up to 2 hours.
In a separate bowl, mix together the flour, garlic powder, onion powder, paprika, salt, black pepper, and cayenne pepper.
Dip the marinated chicken in the flour mixture, shaking off any excess.
Next, dip the chicken in the beaten eggs.
Then, coat the chicken in a mixture of panko bread crumbs and Parmesan cheese.
Place the chicken on a baking sheet lined with parchment paper and bake for 20-25 minutes, or until the chicken is golden brown and cooked through.
In a small bowl, whisk together the mayonnaise, honey, and hot sauce to make the spicy honey mayo.
Toast the hamburger buns.
Assemble the chicken sandwiches by spreading the spicy honey mayo on the bottom bun, then adding the lettuce, sliced tomato, sliced red onion, pickles, and the crispy chicken breast. Top with the top bun.
Serve the sandwiches warm and enjoy!
I hope you love this creative and delicious chicken sandwich recipe!
We are sorry that this post was not useful for you!
Let us improve this post!
Tell us how we can improve this post?