Cosmic Galaxy Cupcakes
Welcome to a universe of flavor and fun with our Cosmic Galaxy Cupcakes! These mesmerizing treats are not only a delight for the taste buds but also a feast for the eyes. Perfect for kids and adults alike, these cupcakes will take you on a gastronomical journey through the cosmos. Get ready to blast off into a world of deliciousness!
Ingredients:
For the Cupcakes:
1 ½ cups all-purpose flour
1 ½ tsp baking powder
½ tsp baking soda
¼ tsp salt
1 cup granulated sugar
2 large eggs
½ cup unsalted butter, melted
½ cup buttermilk
1 tsp vanilla extract
For the Cosmic Galaxy Swirl:
1 cup cream cheese, softened
½ cup powdered sugar
1 tsp lemon juice
1 tsp edible glitter (for extra cosmic sparkle)
For the Cosmic Glaze:
1 cup powdered sugar
2-3 tbsp milk
1 tsp black gel food coloring
1 tsp edible glitter
Instructions:
1. Prepare the Cupcake Batter:
Preheat your oven to 350°F (180°C) and line a cupcake pan with paper liners.
In a medium-sized bowl, whisk together the flour, baking powder, baking soda, and salt. Set this aside.
In another bowl, beat the eggs and sugar until they become light and fluffy.
Add the melted butter, buttermilk, and vanilla extract to the egg mixture. Mix until well combined.
Gradually add the dry ingredients to the wet ingredients, mixing until you have a smooth cupcake batter.
2. Create the Cosmic Galaxy Swirl:
In a separate bowl, mix the softened cream cheese, powdered sugar, and lemon juice until it's smooth and creamy.
Stir in the edible glitter to give it that cosmic sparkle.
3. Assemble the Cosmic Cupcakes:
Fill each cupcake liner halfway with the cupcake batter.
Add a dollop of the Cosmic Galaxy Swirl mixture on top of the batter.
Using a toothpick or a skewer, gently swirl the two mixtures together to create a cosmic, marbled effect.
4. Bake and Cool:
Bake the cupcakes in the preheated oven for 15-18 minutes or until a toothpick inserted into the center comes out clean.
Let the cupcakes cool in the pan for a few minutes before transferring them to a wire rack to cool completely.
5. Cosmic Glaze:
In a small bowl, mix together the powdered sugar and milk until you have a smooth glaze.
Add the black gel food coloring and edible glitter to the glaze, stirring until it resembles the dark expanse of the cosmic void.
6. Decorate Your Universe:
Once the cupcakes are completely cool, drizzle the Cosmic Glaze over the top of each cupcake, creating a starry, galaxy-like effect.
For an extra cosmic touch, sprinkle a pinch of edible glitter on top of the glaze while it's still wet.
7. Serve and Enjoy:
Your Cosmic Galaxy Cupcakes are now ready to be enjoyed by astronauts of all ages! Watch as they're transported to a world of taste and wonder.
These Cosmic Galaxy Cupcakes from ArdellesPlace.com are not only a treat for your taste buds but also a creative and fun baking adventure for the whole family. Whether you're celebrating a birthday, a special occasion, or simply indulging your cosmic curiosity, these cupcakes are sure to be a hit. So, gather your crew, set your sights on the stars, and embark on a delicious journey through the cosmos!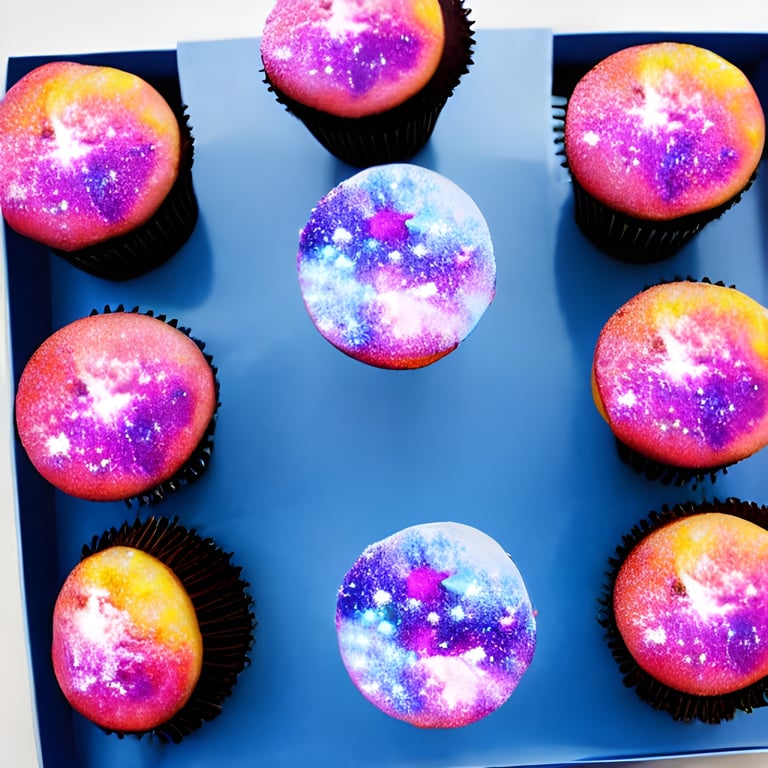 We are sorry that this post was not useful for you!
Let us improve this post!
Tell us how we can improve this post?