Celebrate the Season's Best with a Smoked Holiday Ham

Celebrate the Season's Best with a Smoked Holiday Ham. Whether you're hosting a large holiday gathering or simply savoring the season with those nearest and dearest, serving up flavorful dishes your friends and family will love is key to bringing everyone together. (Family Features)
With a full portfolio to choose from, you can shake up your meals all throughout the season using inspiration and premium products from Smithfield to help bring everyone together to share favorite memories and meals from breakfast to dessert and everything in between.
This holiday season, create a masterpiece such as a Hickory Smoked Spiral Sliced Ham with Bourbon, Honey and Orange Glaze for the perfect combination of sweet and savory with fresh orange juice, bourbon, ginger, cinnamon and honey that'll leave guests asking for seconds.
Easy to prepare and ready to be served, Smithfield Spiral Hams are pre-sliced and only need to be heated. Plus, if you're short on time during a hectic holiday season and unable to prepare a homemade glaze, a pre-glazed ham is an easy option.
For more easy-to-make holiday recipe inspiration, visit Smithfield.com.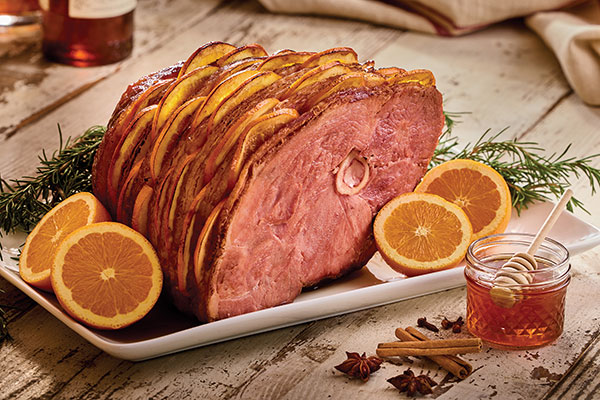 Hickory Smoked Spiral Sliced Ham with Bourbon, Honey and Orange Glaze
Total time: 2 hours, 40 minutes
1 Smithfield Hickory Smoked Spiral Sliced Ham
1/2 cup bourbon
1/2 cup honey
1 1/2 cups fresh orange juice
1/2 cup brown sugar
1/2 teaspoon ground clove
1 teaspoon ground cinnamon
1 tablespoon ground ginger
Preheat oven to 325 F.
Remove packaging from ham, including glaze packet, and place face down in large roasting pan.
Heat ham, uncovered, 12-14 minutes per pound, or until internal temperature reaches 120 F. Heating time will vary by weight.
When about 30 minutes of cook time remains, in small saucepan over medium-high heat, whisk bourbon, honey, orange juice, brown sugar, clove, cinnamon and ginger; bring to boil.
Pour glaze over ham.
Continue baking ham, basting frequently.
For final 10 minutes of cook time, turn oven up to 425 F, continuing to baste with glaze.
When ham is heated through, remove from oven, drain liquid in bottom of baking dish and reserve to serve on side of hot ham.


SOURCE:
Smithfield
We are sorry that this post was not useful for you!
Let us improve this post!
Tell us how we can improve this post?