Western-style omelette that you can make at home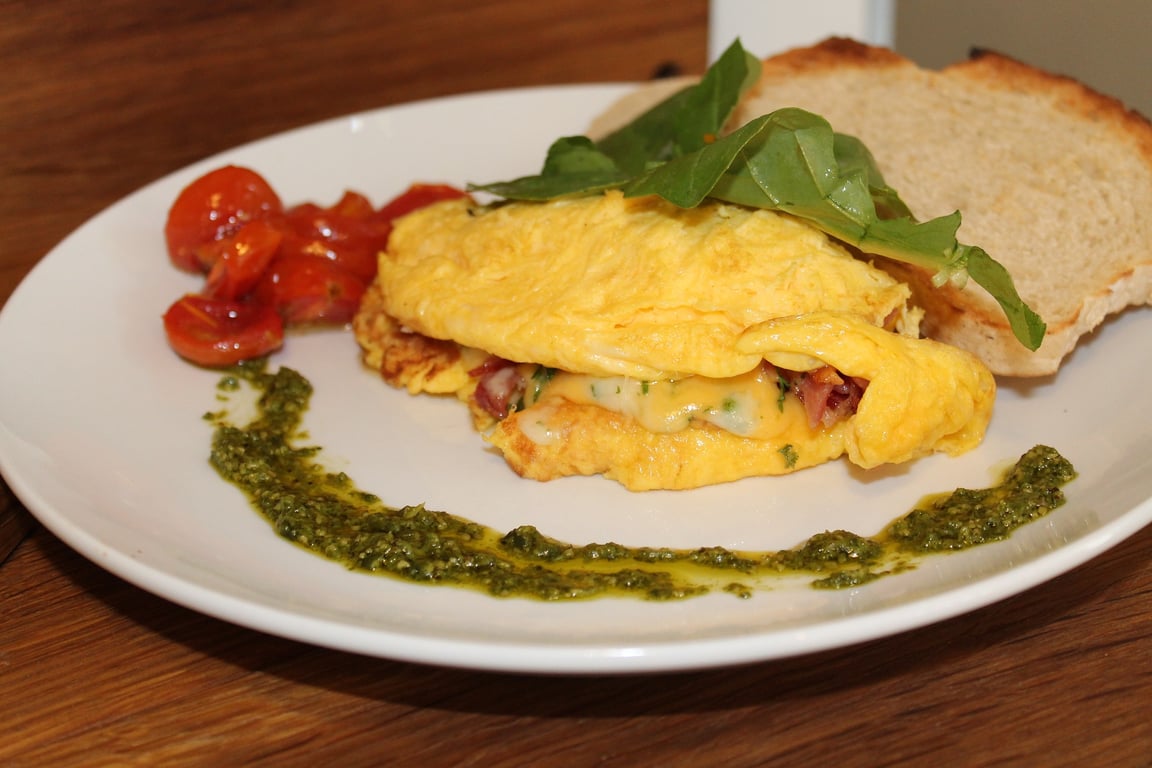 The Western-style omelette, also known as a Denver omelette, is a popular American dish that is typically made with eggs, diced ham, green bell peppers, and onions. It is believed to have originated in the late 19th century in the western United States, where it was commonly served as a hearty breakfast or brunch item.
The exact origin of the Western-style omelette is unclear, but it is thought to have been inspired by traditional Spanish omelettes, which were made with potatoes and onions. As Spanish settlers migrated to the western United States, they brought their culinary traditions with them and adapted them to the local ingredients and tastes.
Over time, the Western-style omelette evolved to include other ingredients such as cheese, mushrooms, and tomatoes, depending on the region and the personal preferences of the cook. In some areas, it is also known as a "Southwestern omelette" and may include ingredients such as jalapeños, cilantro, and salsa.
Today, the Western-style omelette remains a popular breakfast dish in the United States, and can be found on the menus of many diners and breakfast restaurants. It has also become a popular item for home cooks, who often add their own variations and twists to the classic recipe.
Western-style omelette that you can make at home, inspired by Ardelles Place:
Ingredients:
3 large eggs
1/4 cup diced ham
1/4 cup diced green bell pepper
1/4 cup diced onion
1/4 cup shredded cheddar cheese
2 tablespoons butter
Salt and pepper to taste
Instructions:
In a medium-sized mixing bowl, beat the eggs together with a fork until they are well mixed.
Add the diced ham, green bell pepper, and onion to the bowl and stir to combine.
Heat a non-stick skillet over medium-high heat and add the butter. Swirl the pan to ensure the butter coats the bottom.
Pour the egg mixture into the skillet and let it cook for about 30 seconds without stirring.
Using a spatula, gently lift the edges of the omelette and let the uncooked egg mixture flow to the bottom of the skillet.
Continue to cook the omelette until the top is almost set but still slightly runny.
Sprinkle the shredded cheddar cheese on one side of the omelette.
Using the spatula, fold the other side of the omelette over the cheese to form a half-moon shape.
Cook for an additional 30 seconds or until the cheese is melted and the eggs are cooked through.
Slide the omelette onto a plate, season with salt and pepper to taste, and serve hot.
This western-style omelette is easy to make and tastes delicious with the combination of ham, peppers, onions, and melted cheese. Enjoy!
We are sorry that this post was not useful for you!
Let us improve this post!
Tell us how we can improve this post?