Smoky Cubano Sandwich. For flavor fans, there is nearly no better combo than the complementary tastes in a Cubano sandwich. Complete with layers of roast pork, ham, soft swiss cheese, mustard and topped with tangy pickles, all the flavors and textures play in concert.
For an upgrade on the classic sandwich, try this version from Sammy Hagar, a member of the Rock and Roll Hall of Fame, who's known for his riff on the iconic recipe. He takes his favorite sandwich to the next level by adding a smoky kick.
"The Cubano has everything I love in a sandwich: gooey melted cheese and a crispy, crunchy crust on the bread," Hagar said. "It's great to be able to get all the flavors in each bite. It has pickles and mustard that cut through the rich cheese and pork. When you splash a little Tabasco on it, you get the last perfect ingredients – flavor and heat."
Find his signature sandwich at Sammy's Beach Bar & Grill locations throughout the country, or try creating Sammy's Cubano Sandwich at home with this recipe.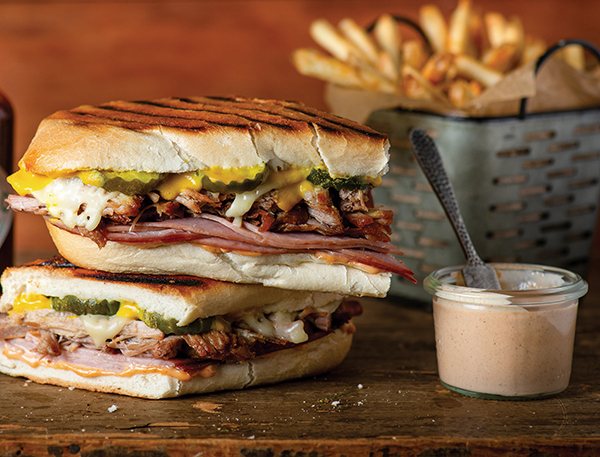 For more recipes, visit Tabasco.com/recipe.
Sammy's Cubano Sandwich
Cook time: 3 hours and 30 minutes
Servings: 6
Mojo Marinade:
3/4       cup extra-virgin olive oil
1          cup cilantro, minced
1          tablespoon fresh oregano, minced
2          teaspoons cumin, ground
2          teaspoons Tabasco Chipotle Sauce
3          tablespoons mayonnaise
8          ounces deli ham, thinly sliced
1/2       pound swiss cheese, thinly sliced
24        dill pickle chips
4          tablespoons yellow mustard
1          cup unsalted butter
4          tablespoons reserved Mojo Marinade
SOURCE:
Tabasco
A St. Patty's Day Sandwich
We are sorry that this post was not useful for you!
Let us improve this post!
Tell us how we can improve this post?
Originally posted on May 6, 2019 @ 4:05 am