Red Beans & Rice Favorite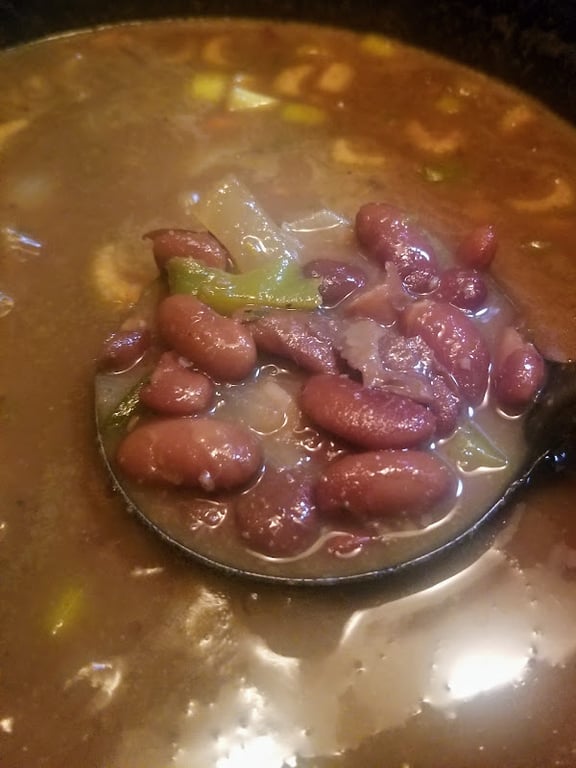 Red Beans and Rice is a traditional dish in Creole and Cajun cuisine, originating in Louisiana, United States. It is made from red beans, which are small, kidney-shaped beans, and rice, which are stapled ingredients in the region. The dish is said to have been created as a way to use up leftover ingredients, such as beans and vegetables, in a flavorful and filling way.
Red Beans and Rice are usually served as a Monday lunch, as Monday was traditionally wash day when women were busy doing laundry and didn't have time to cook. The dish could be left to simmer on the stove while they attended to their chores.
Today, Red Beans and Rice are a beloved staple in Louisiana cuisine and is enjoyed all over the world. It is often served as a main dish or a side dish, and variations on the recipe can include the addition of sausage, ham, or bacon, and spices such as cayenne pepper, thyme, and oregano.
Ingredients:
1 pound dried red beans, rinsed and picked over
1 large onion, diced
2 celery stalks, diced
1 green bell pepper, diced
4 cloves garlic, minced
1 tablespoon tomato paste
1 teaspoon dried thyme
1 teaspoon dried basil
1 teaspoon dried oregano
1 bay leaf
1/2 teaspoon cayenne pepper (optional)
Salt and black pepper to taste
8 cups water
3 cups long-grain white rice
2 tablespoons butter or olive oil
Instructions:
Soak the red beans overnight in a large pot of water. Drain and rinse the beans.
In a large pot or Dutch oven, heat the butter or olive oil over medium heat. Add the onion, celery, green pepper, and garlic and cook until soft, about 5 minutes.
Stir in the tomato paste, thyme, basil, oregano, bay leaf, cayenne pepper (if using), salt, and pepper and cook for another 2 minutes.
Add the soaked red beans and 8 cups of water to the pot. Bring to a boil, reduce heat to low, and simmer, covered, for 1 1/2 to 2 hours, or until the beans are tender.
While the beans are cooking, rinse the rice in a fine-mesh strainer under cold running water until the water runs clear.
In a separate pot, bring 4 cups of water to a boil. Add the rice, stir once, and reduce heat to low. Cover and simmer for 18 to 20 minutes, or until the water is absorbed and the rice is tender.
Serve the red beans over the cooked rice, with hot sauce on the side, if desired.
Enjoy your delicious red beans and rice!
We are sorry that this post was not useful for you!
Let us improve this post!
Tell us how we can improve this post?