Mexican Street Corn Salad
Mexican Street Corn Salad. This salad is a fresh and flavorful take on traditional Mexican street corn, which is typically served on the cob.
Mexican Street Corn Salad is a dish that originated from the popular Mexican street food known as "elote." Elote is a grilled corn on the cob that is typically slathered with mayonnaise, sprinkled with cotija cheese, and seasoned with chili powder, lime juice, and salt.
The origins of elote can be traced back to Mexico's indigenous cultures, who have been consuming corn for thousands of years. The dish was eventually adopted by street vendors in Mexico City, where it became a popular snack food.
In recent years, elote has gained popularity in the United States, particularly in cities with large Mexican populations. The dish has been adapted into various forms, including Mexican Street Corn Salad, which is a deconstructed version of the traditional elote.
Mexican Street Corn Salad typically features grilled corn kernels, mixed with a creamy dressing made with mayonnaise, sour cream, and lime juice. The salad is then topped with cotija cheese, cilantro, and smoked paprika. It is a refreshing and flavorful dish that has become a favorite among food lovers in both Mexico and the United States.
Today, Mexican Street Corn Salad can be found in many Mexican restaurants and food trucks throughout the United States, and it has become a popular dish to serve at summer cookouts and picnics.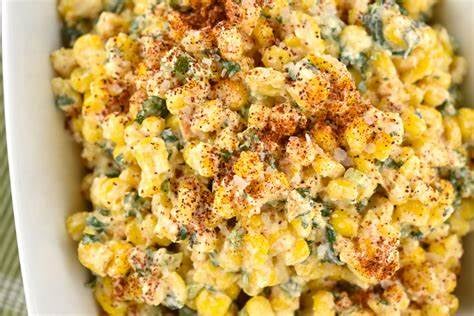 Mexican Street Corn Salad
Ingredients:
4 ears of corn, husked
1/4 cup mayonnaise
1/4 cup sour cream
2 tbsp. lime juice
1/4 cup chopped fresh cilantro
1/4 cup crumbled cotija cheese
1/4 tsp. smoked paprika
Salt and pepper, to taste
Instructions:
Preheat a grill or grill pan over medium-high heat.
Brush the corn with olive oil and sprinkle with salt and pepper.
Grill the corn, turning occasionally, until lightly charred and tender, about 10-12 minutes.
Remove the corn from the grill and let cool for a few minutes.
Cut the kernels off the cob and place them in a large bowl.
In a small bowl, whisk together the mayonnaise, sour cream, lime juice, cilantro, and smoked paprika.
Pour the dressing over the corn and toss to coat evenly.
Add the cotija cheese and toss again.
Season with salt and pepper to taste.
Serve immediately or chill in the refrigerator until ready to serve.
Enjoy your delicious Mexican Street Corn Salad!
We are sorry that this post was not useful for you!
Let us improve this post!
Tell us how we can improve this post?